Que Viva Mexico! Congrats to the cast and crew of Pixar's Coco on their big win at the Oscar for Best Animated Feature at the 90th Academy Awards on Sunday.
MORE: February 27th is now Coco Day in L.A.!
The colorful Mexican-inspired animated film's team created a space for the world to celebrate the Latino community and showcase how cultural infusion is a must in the world of cinema today. 
"Coco is proof that art can change and connect the world, and this can only be done when we have a place where everyone and anyone who feels like another to be heard," said producer Darla K. Anderson. Alongside Anderson, Co-producer, Lee Unkrich took the time to thank the people of Mexico during his speech.
"The biggest thank you of all [goes] to the people of Mexico. Coco could not exist without your endlessly beautiful culture and traditions. With Coco, we tried to take a step forward toward a world where all children can grow up seeing characters in movies that look and talk and live like they do. Marginalized people deserve to feel like they belong. Representation matters."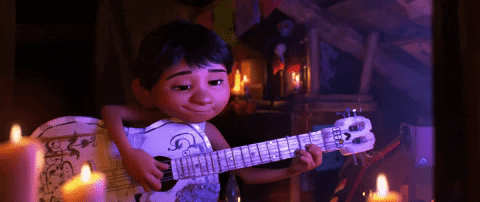 PLUS: This Adorable Grandma Was the Inspiration for Abuelita in 'Coco'
Representation, Representation!  Coco's team was loud and clear on what they want in Hollywood, and we couldn't agree more.
In addition to scoring an Academy Award, artist Miguel took the stage with an upbeat guitar melody "Remember Me" from animated Mexican celebrating story. The  Mexican-American singer dressed rocked a sleek black suit with the beautiful Mexican artist Natalia LaFourcade from the soundtrack. 
Check out the vibrant performance below. 
What a stunning performance of "Remember Me" from Coco featuring @Miguel and @lafourcade! #Oscars pic.twitter.com/ru2OjBfcGx

— Channel 9 (@Channel9) March 5, 2018